Sometimes it is the one who loves you who hurts you the most.
Lily hasn't always had it easy, but that's never stopped her from working hard for the life she wants. She's come a long way from the small town in Maine where she grew up
— she graduated from college, moved to Boston, and started her own business. So when she feels a spark with a gorgeous neurosurgeon named Ryle Kincaid, everything in Lily's life suddenly seems almost too good to be true.
Ryle is assertive, stubborn, maybe even a little arrogant. He's also sensitive, brilliant, and has a total soft spot for Lily. And the way he looks in scrubs certainly doesn't hurt. Lily can't get him out of her head. But Ryle's complete aversion to relationships is disturbing. Even as Lily finds herself becoming the exception to his "no dating" rule, she can't help but wonder what made him that way in the first place.
As questions about her new relationship overwhelm her, so do thoughts of Atlas Corrigan — her first love and a link to the past she left behind. He was her kindred spirit, her protector. When Atlas suddenly reappears, everything Lily has built with Ryle is threatened.
---
Book Review: 
By far, It Ends With Us by Colleen Hoover, is the heaviest, realistic and most painful among her books. Naked Truth: I felt so much numbness when I started reading It Ends With Us. I couldn't get connected with the book and yet I could feel the intensity of the characters emotions. You feel me? The feeling when you are so numb reading a certain line that you wanted to retreat to your own cave so you wouldn't felt more pain than what you have felt? It was disastrous, horrible, terrifying and beautiful all at the same time. I didn't expect Colleen Hoover will write something like this. Something that will make me feel shit and will leave a huge impact on my chest. It hurts. It fucking hurts. I thought I knew what was pain before not until this book. Not until It Ends With Us.
This book is the manifestation of bold and brave, something to remember and to ponder on. It was magnificent and truthful. It will leave you a mark on your chest, on your mind, on your heart and probably on your soul too. It was breaking me into pieces, slowly, painfully, and when I was so lost, I didn't know that it will heal me at some point and tear me apart all over again.
I never knew that both emotions, love, and hate, go hand in hand. I never knew that both feelings could exist at the same time, at the same moment, and at the same person. It was so painful. IT FUCKING HURTS. I couldn't imagine how a person can handle so much emotion, so much stress, so much pain all in once and suffering from longing and agony and care. Deep inside, my soul is crying for Lily, for everyone. And I couldn't do anything for them – just to cry my heart out.
I just felt the most difficult decision that people could have done in her entire life. And I just witnessed both beautiful and ugliness at the same time, shaking the presence of my mind, I just experience a lifetime of commitment, of sacrifice for someone you love and for someone you wanted to protect. It taught me to fall in love, to live with my decision, to stand on my principles, to protect those who I love and especially that even if you wanted to save a relationship; if it isn't meant to be, even if you love that person so deeply that eventually will hurt both of you, it isn't meant to be. There are so much in life and loving a person doesn't mean you'll end up together, sometimes love to exist for two people even if they aren't together.
It Ends With Us, taught me to forgive – to fix my mistake and give options. It was entirely new. It was a new kind of pain, a pain that could last for a lifetime. And If I will ask if I will read this book all over again? I would totally say yes. This book is full of life lessons. An eye-opener to a lot of people. And I know in myself, that, maybe not today nor tomorrow, but to my future self – that I will do anything just not to end up my future relationship like that.
To Colleen Hoover, I don't know how to thank you enough for writing this book. No words. No descriptions. No feelings could portray this book. I just wanted to Thank you. Just Simply, Thank you for writing this book and being the voice for those people who can't speak for themselves. And please don't cry anymore. Beautiful ladies shouldn't be crying. Just keep swimming.
PS: If you are going to ask me which book is my favorite among Colleen Hoover's book? I would say, It still Slammed.
My ratings: 5 stars! Definitely. 
ABOUT THE AUTHOR
---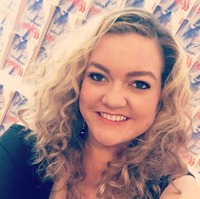 International and #1 New York Times bestselling author of romance, YA and Women's Fiction.
Still doesn't know the difference between affect/effect, further/farther, or if the oxford comma is in or out.
If you want to follow me, my username is @colleenhoover pretty much everywhere except my email, which is colleenhooverbooks@gmail.com
Founder of www.thebookwormbox.com charity. We've donated over one million dollars to various charities. Give us your money so we can donate even more.