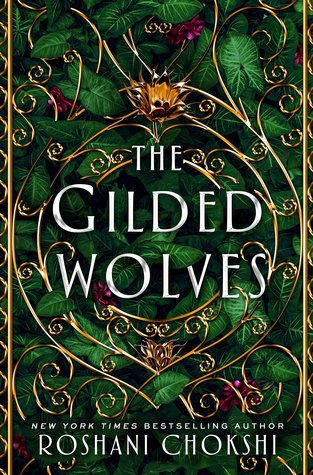 Set in a darkly glamorous world, The Gilded Wolves is full of mystery, decadence, and dangerous but thrilling adventure.
Paris, 1889: The world is on the cusp of industry and power, and the Exposition Universelle has breathed new life into the streets and dredged up ancient secrets. In this city, no one keeps tabs on secrets better than treasure-hunter and wealthy hotelier, Séverin Montagnet-Alarie. But when the all-powerful society, the Order of Babel, seeks him out for help, Séverin is offered a treasure that he never imagined: his true inheritance.
To find the ancient artifact the Order seeks, Séverin will need help from a band of experts: An engineer with a debt to pay. A historian who can't yet go home. A dancer with a sinister past. And a brother in all but blood, who might care too much.
Together, they'll have to use their wits and knowledge to hunt the artifact through the dark and glittering heart of Paris. What they find might change the world, but only if they can stay alive.
---
Book Review:
The Gilded Wolves by Roshani Chokshi is the first fantasy book that I read with Filipino rep and it makes me so happy to see familiar words like La Solidaridad and Jose Rizal.
I started reading The Gilded Wolves without knowledge of the premise of the book and I think it is one of the good things because it surprised me more than I thought. Although the book started slowly for me since I couldn't move on yet with my Brandon Sanderson binge reading. However, things started escalating once I get to know the characters. Chokshi was able to put different personality among her characters. There are hidden flaws, unspeakable idiosyncrasies but despite them having these traits – I come to like them as they seem to be more like a human being more than a fictional character. And that's a rare talent to pull off.
If I am going to describe the novel, it would be thrilling, unexpected, courageous, and brilliant. It definitely shows the different sides of the characters. Severin's mysterious and yet commendable leadership. Hypnos' witty and remarkable remarks with alertness. Enrique's humor and vibrancy to contrast the team. Zofia's love for Math and anything in between. Then Tristan's love for his spider and being vulnerable and yet supportive. And lastly, Laila, who captured my heart with her intense, sizzling dances and unexpected moves.
In short, I like that the characters have their own personalities, that they have their own distinction. Roshani Chokshi captured me with her lyrical and poetic writing style that I didn't see coming. This book is not just a novel. It is a complete art where research, history, magic, and words collide with each other and produce a craft that the readers will love.
And this book screams DIVERSITY.
I believe the greatest lesson that we could learn from reading The Gilded Wolves is that no matter who you are, no matter what race nor upbringing, no matter where you came from. People make mistakes. Your opinions might be different from their opinions. And despite everything, a group of people with different background can be together and respect each of their own perspectives even if they have an opposite stance. The Gilded Wolves is the proof that people can be united if they choose to, that we can be better if we decided to, and that we can be kind as we choose to support each other.
MY RATINGS: 4 STARS.
Amazon | Barnes & Noble | Google Play | Book Depository
---
BLOG TOUR
January 14, 2019
Rafael @ The Royal Polar Bear Reads
Shaine @ Wanderer in Neverland
Jon @ Wander with Jon
Karlita @ Tale Out Loud
January 15, 2019
Dexter @ Dexterous Totalous
Vivian @ Vanilla Angel Pages
Bianca @ The Ultimate Fangirl
January 16, 2019
Athena @ The Night Faerie
Joel @ Descendant of Poseidon Reads
Ramnele @ Book Dragonism
January 17, 2019
Alexia @ The Bookworm Daydreamer
Justine @ Bookish Wisps
Akisha @ Aki Through Books
January 18, 2019
Leslie @ Bibliophile Kid
Hanaa @ Ramblings of a Bookworm
Rachel @ In Between Book Pages
January 19, 2019
Erika @ The Nocturnal Fey
Avery @ B For Bookslut
Salwa @ Reading Solace
In case you would like to read more book reviews of The Gilded Wolves, you can check these blogs: Minimac Reviews, Runaway with Dreamthieves, Ambsreads, and Blossoms and Bullet Journals 
---
ABOUT THE AUTHOR
---
Roshani Chokshi is the New York Times bestselling author of The Star-Touched Queen and A CROWN OF WISHES. Her middle grade debut, ARU SHAH AND THE END OF TIME, released April 3, 2018 from Disney/Rick Riordan Presents. The sequel, ARU SHAH AND THE SONG OF DEATH is slated to release April 30, 2019. Her next young adult novel, THE GILDED WOLVES, is slated for January 15, 2019. Chokshi's work has appeared in Strange Horizons, Shimmer, and Book Smugglers. She was a finalist in the 2016 Andre Norton Award and the Locus Top Ten for Best First Novel. Her short story, "The Star Maiden," was longlisted for the British Fantasy Science Award.