Hello, Bookworms! A week ago, Helen Hoang sent me a copy of her book, The Bride Test. And I know for a fact that this is one of the books that I will love which is I already love. I finished the book already and I couldn't wait five more months to share my love for this book. Since Fay of Bibliophile Soprano is already hosting the PH Blog Tour. To boost the promotion of the book and to reach more audience, I will be hosting the PH Traveling Book of The Bride Test by Helen Hoang. Of course, everything in here is made possible with the help of Penguin Random House International. So, THANK YOU SO MUCH, GUYS!
---
TRAVELING BOOK
The PH Traveling Book: The Bride Test by Helen Hoang needs Thirty (30) – Forty (40) FILIPINO Bookstagrammers who will be able to post their bookish photos on both Twitter and Instagram and use the hashtag #TheBrideTest #HelenHoang and tag @HHoangWrites @PRHGlobal @rafaelrayb @prhinternational
I need THREE bookish photos that will feature the novel on your Instagram and you must comply on the posting schedule. The book will travel from bookstagrammer to bookstagrammer and you must be willing to shoulder the shipping fee when sending the book to the next influencer.
The first photo must be posted on the week you received the book.
The second photo must be posted on ANY days between May 8, 2019 to May 12, 2019.
The third photo must be posted on the assigned schedule that you will be found further on this blog post.
The book will stay at the bookstagrammer for 5 days and 2 days are the allotted time to send the book to the next bookstagrammer. There is no pressure on reading the book but I highly encourage everyone to read it because it deserves the love and the hype. If only I could post my book review now, I will, just to convince everyone that Helen Hoang is a beautiful soul that will captivate your heart. Again, you need to produce three photos and if you would like to produce more than three. It is on your own discretion.
For those who have blogs, I highly encouraged you to join Fay's blog tour or at least hold your book review and post it on two weeks before the publication date of the book, May 7, 2019. OPEN ONLY FOR FILIPINO BOOKSTAGRAMMERS.
That's it! Below, you can find the google form and the initial schedule of the book tour on Instagram!
P.S.: PLEASE TAKE GOOD CARE OF THE BOOKS.
---
SCHEDULE
Week One [1/21 – 1/27] :
Week Two [1/28 – 2/03] :
Week Three [2/04 – 2/10] :
Week Four [2/11 – 2/17] :
Week Five [2/18 – 2/24] :
Week Six [2/25 – 3/03] :
Week Seven [3/04 – 3/10] :
Week Eight [3/11 – 3/17] :
Week Nine [3/18 – 3/24] :
Week Ten [3/25 – 4/31] :
Week Eleven [4/01 – 4/07] :
Week Twelve [4/08 – 4/14] :
Week Thirteen [4/15 – 4/21] :
---
POSTING SCHEDULE
The third photo must be posted on the assigned schedule that you will be found further on this blog post.
May 8:
May 9:
May 10:
May 11:
May 12:
May 13:
May 14:
---
BUY-LINKS
---
---
ABOUT THE AUTHOR
---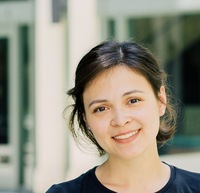 Helen Hoang is that shy person who never talks. Until she does. And the worst things fly out of her mouth. She read her first romance novel in eighth grade and has been addicted ever since. In 2016, she was diagnosed with Autism Spectrum Disorder in line with what was previously known as Asperger's Syndrome. Her journey inspired THE KISS QUOTIENT. She currently lives in San Diego, California with her husband, two kids, and pet fish.