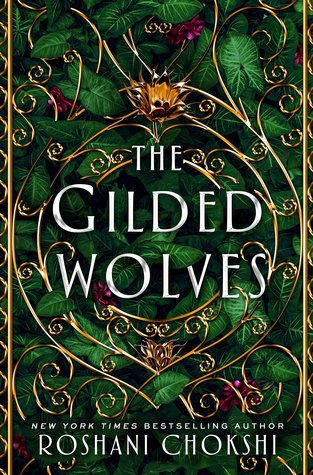 Set in a darkly glamorous world, The Gilded Wolves is full of mystery, decadence, and dangerous but thrilling adventure.
Paris, 1889: The world is on the cusp of industry and power, and the Exposition Universelle has breathed new life into the streets and dredged up ancient secrets. In this city, no one keeps tabs on secrets better than treasure-hunter and wealthy hotelier, Séverin Montagnet-Alarie. But when the all-powerful society, the Order of Babel, seeks him out for help, Séverin is offered a treasure that he never imagined: his true inheritance.
To find the ancient artifact the Order seeks, Séverin will need help from a band of experts: An engineer with a debt to pay. A historian who can't yet go home. A dancer with a sinister past. And a brother in all but blood, who might care too much.
Together, they'll have to use their wits and knowledge to hunt the artifact through the dark and glittering heart of Paris. What they find might change the world, but only if they can stay alive.
---
The Gilded Wolves is a treat to read. There are a lot of characters that represent different races. How was it writing a book with a lot of representation, especially, in your Filipino roots?
It was exhilarating to write the cast of The Gilded Wolves! It was also very therapeutic for me to write about the experiences I've had growing up in a mixed race home as a first-generation American. I really appreciated having the time and space to tackle questions of identity and belonging, particularly in a world where you may either be privilege passing or white passing, but not both. There's a whole different power dynamic there that really challenged how I constructed my characters' POVs.
Among the characters, who is the hardest to write and who is the easiest character to write, perhaps someone you relate to the most and why?
Zofia was the hardest to write. We have very little in common and she processes the world around her in a vastly different way from me. To write her, I hired multiple sensitivity readers on the Aspbergers spectrum who helped me filter her observations and (hopefully) write her in a way that was respectful instead of stereotypical. I really related to Enrique, the Filipino-Spaniard historian. We're both nerds, both Filipino, both love drama and food and history…and most importantly, we both understand the pressure to belong to one side or another.
If you are going to give advice to your 10-year-old self, what advice would you give and why?
Listen carefully. It's hard to find people who practice active listening. Without listening to each other with compassion, we lose out on the richness of nuance and the richness of experiences different from our own. Without listening to the stories of others, I think my own books would be that much poorer.
Tell us what should we expect to the sequel of The Gilded Wolves in ten words!
There is a lot of drama coming up soon. Sorry.
I am so thrilled happy when I read the words La Solidaridad and Jose Rizal in this book. Aside from the representation, what do you think is the edge of The Gilded Wolves among historical fantasy out there?
Oh, thank you! I really wanted to represent my Filipino background. I'm not sure that Gilded Wolves has any particular edge, but I hope that it's as adventurous, transportive and thought-provoking a read as it was a process to write.
I love powerful women, even powerful characters and I'm curious how did you craft Laila and Zofia's characters. They feel like the contrast of each other but in a really good way. Also, if you were to compare the personality of your characters to your own personality, who among the character is YOU?
Thank you! Personality wise, I am most like Enrique but I want to be Séverin. In my other books, I am definitely Kamala, the flesh-eating demon horse from The Star-Touched Queen and 90% Aru from Aru Shah and The End of Time.
What is the lesson that you want your readers to learn from reading The Gilded Wolves?
I want my readers to leave with a sense of curiosity. I want them to question the tales they're told and to embrace nuance.
What is your favorite quote from the book and why?
"I am thinking of aurochs and angels, the secret of durable pigments, prophetic sonnets, the refuge of art. And this is the only immortality you and I may share, my Lolita."–Nabokov
There was something about reading those words for the first time that shocked me into silence. I'd never read books that put together sentences like that, that made them edible poetry. It was particularly jarring because those words are uttered by the complete (and thankfully fictional) monster, Humbert Humber, antagonist and narrator of Lolita…and wordsmith of words. It was something that lingered with me long after as proof of the power of language.
[Check out my book review of The Gilded Wolves by Roshani Chokshi]
Amazon | Barnes & Noble | Google Play | Book Depository
---
---
Roshani Chokshi is the New York Times bestselling author of The Star-Touched Queen and A CROWN OF WISHES. Her middle grade debut, ARU SHAH AND THE END OF TIME, released April 3, 2018 from Disney/Rick Riordan Presents. The sequel, ARU SHAH AND THE SONG OF DEATH is slated to release April 30, 2019. Her next young adult novel, THE GILDED WOLVES, is slated for January 15, 2019. Chokshi's work has appeared in Strange Horizons, Shimmer, and Book Smugglers. She was a finalist in the 2016 Andre Norton Award and the Locus Top Ten for Best First Novel. Her short story, "The Star Maiden," was longlisted for the British Fantasy Science Award.