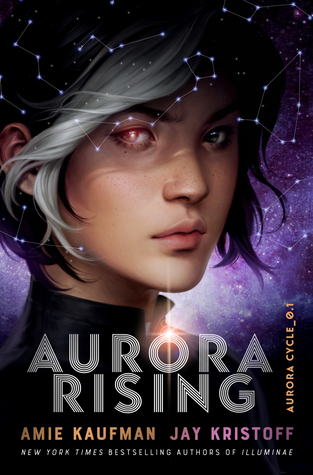 Aurora Rising: 9781984893956
Published by: Random House Children's Books
From the internationally bestselling authors of THE ILLUMINAE FILES comes an epic new science fiction adventure.
The year is 2380, and the graduating cadets of Aurora Academy are being assigned their first missions. Star pupil Tyler Jones is ready to recruit the squad of his dreams, but his own boneheaded heroism sees him stuck with the dregs nobody else in the Academy would touch…
A cocky diplomat with a black belt in sarcasm
A sociopath scientist with a fondness for shooting her bunkmates
A smart-ass techwiz with the galaxy's biggest chip on his shoulder
An alien warrior with anger management issues
A tomboy pilot who's totally not into him, in case you were wondering
And Ty's squad isn't even his biggest problem—that'd be Aurora Jie-Lin O'Malley, the girl he's just rescued from interdimensional space. Trapped in cryo-sleep for two centuries, Auri is a girl out of time and out of her depth. But she could be the catalyst that starts a war millions of years in the making, and Tyler's squad of losers, discipline-cases and misfits might just be the last hope for the entire galaxy.
They're not the heroes we deserve. They're just the ones we could find. Nobody panic.
---
Book Review:
Do you know the feeling when a book captivates you and you couldn't put it down? I have no expectations when I started reading Aurora Rising. I'm actually more of a reader that judges the cover before diving into its story. And who am I, really? How could I doubt Skyward's cover artist with Aurora Rising's cover? Regardless of the outstanding and stellar cover, I believe that Aurora Rising's story is amazing on its own. It feels like I'm going to Skyward's planetary-ish-science-fiction-ish story but wouldn't it be more awesome if these two books will have a cross-over somewhere between the story?
The characters made me laugh. Made me curious at some point. Made me jealous, admires a character from someone's point of view and at times, they made me shit because of their personalities. Knowing Jay Kristoff from his LIFEL1K3, there will always (emphasis on ALWAYS) humor which I am not complaining to and I love how diverse his (and Amie Kaufman's) characters are. They are easy to like and I couldn't get more of them. I wish I could read the sequel soon!
Some of my friends like Kal more because of the complexity of his character but some like Tyler Jones because how could you not? But I appreciate Finian's character in this story. Or maybe, I appreciate him more than the rest. Although I like everyone, and I was able to see some perspectives in their own views, I was able to resonate with him at some point. Yep. I have a weak spot when it comes to some characters that I could relate with. And yet, every one of them was able to compliment each other. That what makes this book beautiful.
Aside from the intense plot line of the book, I couldn't help but keep on wanting what will be next of the story. There will be destruction. There will be grieving. Even though this book is an emotional punch in the gut, it will make you wonder, question what will happen next. Of course, knowing Jay Kristoff and Amie Kaufman, we couldn't predict what will happen next. My only advice would be: We could only hope.
Aurora Rising by Jay Kristoff and Amie Kaufman is a wild ride. A science-fiction novel that goes beyond the universe. It doesn't let the world judge the book, it does make the universe accept them. That's how beautiful this book is. It could capture your heart with their own struggles, with their sarcasm, and jokes with their unending grit that will be loved and love more by the readers, this book goes beyond everyone's expectations. Don't falter. Don't wait. Go read this book. Meet the Squad 312.
MY RATINGS: 4.5 STARS!
Amazon | Barnes & Noble | Google Play | Book Depository
---
ABOUT THE AUTHORS
---
Amie Kaufman is a New York Times and internationally bestselling author of young adult fiction. Her multi-award winning work is slated for publication in over 30 countries, and is in development for film and TV. Raised in Australia and occasionally Ireland, Amie has degrees in history, literature, law and conflict resolution. She lives in Melbourne with her husband, their rescue dog, and an extremely large personal library.
Jay Kristoff is the #1 international, New York Times and USA Today bestselling author of THE NEVERNIGHT CHRONICLE, THE ILLUMINAE FILES and THE LOTUS WAR. He is the winner of five Aurealis Awards, an ABIA, has over half a million books in print and is published in over thirty five countries, most of which he has never visited. He is as surprised about all of this as you are. He is 6'7 and has approximately 12,000 days to live.
He does not believe in happy endings.