In 2012, one cycle of an ancient calendar system came to a close. Humanity predicted its downfall, but it wasn't the end of their evolutionary climb. It was the beginning.
Willow Kent is discovering that life as a second-phase prodigy comes at a price. Trapped in the London Core, her choices are limited, made difficult by her forbidden romance with Reece and the presence of a new commanding officer who establishes harsh rules. With unpredictable skills and a growing distrust in her birth parents, she is struggling to play the Core's game. But when opportunity arises in the form of a mysterious shapeshifter, Willow realizes there's more to her own evolution than meets the eye. She soon learns that keeping secrets is a key move, and the more dangerous they are, the greater her need to evolve into the powerful prodigy nature intended her to become.
But those closest to her have their own secrets, and her status has made her an easy target for betrayal. Who will she turn to, when nothing is as it seems?
---
Book Review:
Exciting. Terrifying. Brilliant. Mimic by CL Denault is one of those books that I am willing to wait no matter how many years would it take to read a composed, truthful, empowering, and brilliant novel of this day. It feels like there are a lot of elements from Gambit that I would definitely love to see in Mimic and boy, oh boy, this book never fails to surprise me as I try to predict what will happen next. After reading the book, my initial reaction was: My heart is everywhere. Yes, indeed. It was. If I really don't know whom to trust in Gambit, my wall of trust issues definitely became stronger and firmer here in Mimic.
I love how things are going in this book. I was definitely able to see some answers from the first book but Mimic doesn't completely reveal everything all at once to the readers. This is the type of book that I believe will need more than five books to completely tell its story. The story feels intimidating as there is a lot of things happening, but at the same time, it feels like the story takes care on its own. There are a lot of new variables, new information to absorb. And when you lower your guard, this book will make you gasp as it provides more than you expected.
I wouldn't deny the fact that this book is more diplomatic than Gambit and yet it still made me hooked on page one. It shows how vulnerable Willow is but at the same time, Denault was able to execute a thrilling action with class.
This book is intense. Its way over the top, I could feel the tension in between family members and the security of House Roanoke. Much over the unwavering tension between Roanoke and Tiernan feels like in a different league. There are other members that have been introduced in this book and it feels like there will be a huge significance in the future books and I couldn't wait what will Denault offer to us this time.
You will feel a lot in this book. I loathed a character. I loved a character. Nevertheless, that is what amazing about with C.L. Denault, she was able to weave on her own the true personality of her characters as if they are not a fictional persona.
Mimic by CL Denault is an outstanding novel that resembles the game of minds and without a doubt, a game that the readers need to look forward to. Because we are no longer reading a book. We are reading a masterpiece.
MY RATINGS: 5 STARS!!!!!
---
ABOUT THE AUTHOR
---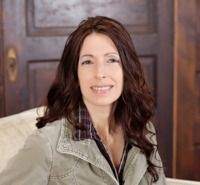 C.L. Denault is a speculative fiction writer who loves dreaming up tales of adventure and intrigue. A former systems analyst, she gave up her nerdy code-writing skills to stay home with her children (including a son with special needs), and currently lives among the vast stretches of cornfields in Illinois.
Writing and blogging are two of her passions, along with drinking coffee and watching sci-fi and horror flicks. When she's not hanging out with her family, she can usually be found at a library or tucked away in the shadowy corner of a hip coffeehouse. She's also been glimpsed sneaking into her garage, late at night, to work on her time machine.
She enjoys connecting with people (especially those from other planets, dimensions, and the future). To find her, just visit her website or The INFJ Café. Or use a Stargate. Whichever is easiest.