Seventeen-year-old Alice and her mother have spent most of Alice's life on the road, always a step ahead of the uncanny bad luck biting at their heels. But when Alice's grandmother, the reclusive author of a cult-classic book of pitch-dark fairy tales, dies alone on her estate, the Hazel Wood, Alice learns how bad her luck can really get: her mother is stolen away―by a figure who claims to come from the Hinterland, the cruel supernatural world where her grandmother's stories are set. Alice's only lead is the message her mother left behind: "Stay away from the Hazel Wood."
Alice has long steered clear of her grandmother's cultish fans. But now she has no choice but to ally with classmate Ellery Finch, a Hinterland superfan who may have his own reasons for wanting to help her. To retrieve her mother, Alice must venture first to the Hazel Wood, then into the world where her grandmother's tales began―and where she might find out how her own story went so wrong.
---
Book Review by Hazel Pagador:
This book. This book!
I don't know where to begin, do we begin with the eerie, dark, creepy vibe? The plot? Or the negative aspects of this book?
First of all, this is not your usual fairytale book. If you come in expecting to have a euphoric feeling being in a fairytale, it's not. It's far from euphoria.
As the book starts, you're introduced to the situation Ella (mother) and Alice (daughter, the main character) is in. The first chapter of this book was a drag. Everything was just told instead of shown even by simple flashbacks. It would be better if it was shown because the connection would be there. That was the major issue of the first half of this book.
The first half or so of this book I completely drifted off. The pacing was confusing. It would talk about in details, the perfect pace, about everything and then it would just suddenly zoom in to next week or so.
Besides the confusing pace of this book, I also got more confused when 'mom' turned to 'Ella' then 'grandma' turned to 'Althea'
The main character, Alice, would address her family by name. I don't know if it's something other people do but I would get my mouth wiped clean in horrendous ways by my mom if I did that. Story-wise, it's just very confusing, I even got Alice and Ella confused for one another multiple times.
That issue went along for the entirety of the book. But now let's look at the bright side: The second half of the book.
Now the second half of the book was amazing. I read 200 pages in a day because it was really intriguing, we're getting the correct pacing. Nothing is rushed and nothing is slowed down. The added or newly introduced characters are doing their part, the vibe is there.
The vibe! If there's anything I love about this book is that the creepy and dark vibe that was there! I can't stop talking about the creepiness this book holds. Not to mention, the stories from "Tales from Hinterland" (I would buy the novellas. I swear I start getting into the book because of the stories.) is something that I did not expect.
Still, the last half of the book suddenly feel disconnected from me. I don't know why but it irritated me that I fell out of the story. The connection was lost. I don't want to just read the books, I want to be able to feel them, I want to be part of the story. I'm only reading the last half for the sake of finishing it.
Final thoughts of this book: I love the plot. I love the world, but I seriously didn't like whatsoever Alice was. She was extremely self-centered and selfish. I know why she was like that but it made the book harder to read with her in it.
I also heard this book has a sequel? Just the way this book wrapped up was perfect. I feel like the sequel wasn't necessary.
I would still recommend this book to those who seek dark and twisted reads. Beware though, a lot of cussing is involved in this book. I mean A LOT. I don't mind the cussing, but maybe some of you may be bothered by it. It's there. The cussing is there as much as the darkness of this book.
"She talked like a woman who knew more books than people."
Hazel's Ratings: 3.5 Stars.
---
ABOUT THE AUTHOR
---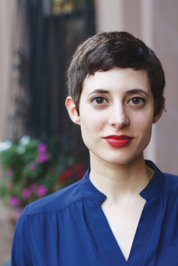 I write books slowly and read books fast.